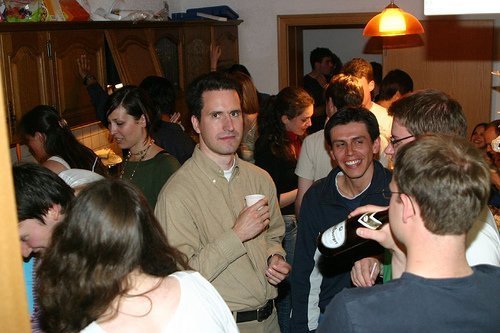 For Cinco de Mayo, I decided to host a Mexican shin-dig at our flat to usher in the new semester. I think the turn-out was much more impressive this time than at Christmas.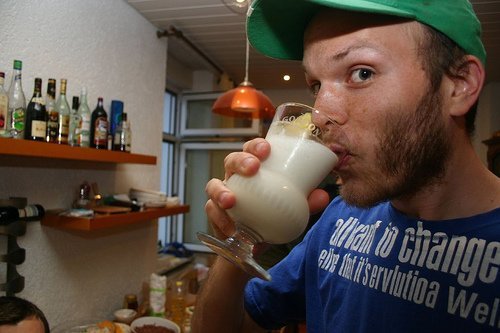 Perhaps it was the lure of piña coladas and tequila sunrise. Possibly it was the promise of home-made hot corn tortillas for tacos and tostadas. Certainly the cinnamon sopapillas dribbled with honey would do it.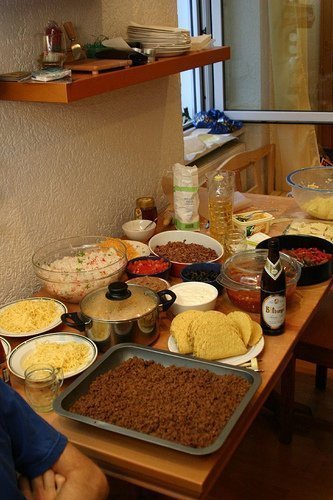 It was rather impressive pulling off a big dinner like that for so many people. The Mexicanische Abend was originally supposed to take place shortly after the new semester started; but since not everyone had quite returned and settled into their new classes, even after the first three or four weeks, we postponed it until the 5th of May as a good way to justify our need for a party. This also meant, however, that school and work and deadlines took precedence over party planning, so it was not until Saturday afternoon that the ball started rolling.
Two hours in Globus and a quick jaunt to Karstadt later, I was in the kitchen preparing dough for two kinds of tortillas and hoping I hadn't forgotten anything at the store. I've never made tortillas before. If I had been in my right mind, I would have made them the day before, or at least several hours before people came. That, unfortunately, was not the case. Still, a gaggle of friends showed up at seven, exactly one hour before the party was supposed to start, and I immediately put them to work. The kitchen was suddenly full of people dicing, slicing, grilling and baking, until everything was magically prepared and ready for the masses.
Except for the tortillas, of course.
Has anyone actually tried making tortillas in a kitchen full of hungry grad students all clamouring to get started? Probably not. Because they know better. Luckily I had store-bought taco shells around to tide them over, because the tortillas turned out to be too thick and too hard to actually roll up all the good stuff we had laid out. I then remembered how my favorite Mexican place had a professional steamer to soften the tortillas after they were cooked. So I pulled out our big pasta pot and the broccoli steamer and there we were…
I ended up rolling tortillas and handing them over to be grilled until about midnight. I actually got pretty good towards the end, as I figured out how to use a glass dish to press the balls of dough flat and thin in a perfect circle. By that time, however, most of the lightweights were already saying goodbye and the crowd was thinning out. For me, that was when the real party started.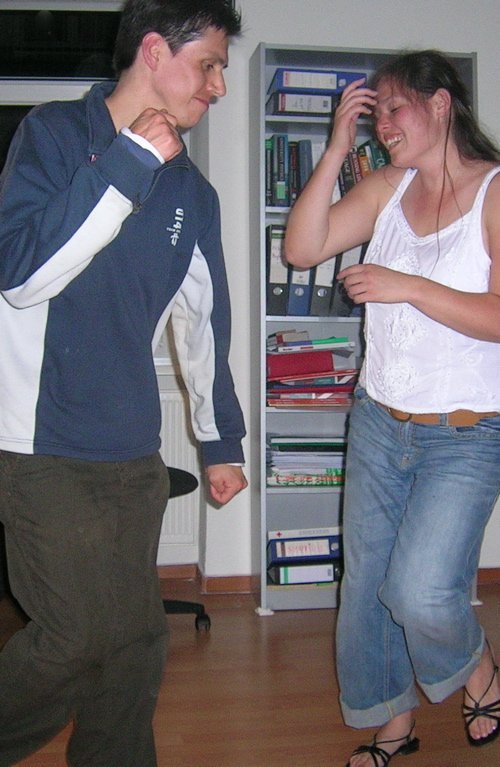 There is something so cool about having a whole house open and free with people you like all around and the knowledge that you are going to stay up all night with them. With more room in the kitchen, we danced to cheesy pop songs and sang at the top of our lungs. In one bedroom, we read German poetry (really); in another, there were lively discussions on gay lifestyles; and in still another, we danced salsa and tango.
By five in the morning, we could hear birds chirping and feel the sky turn a faint pink. The die-hards then decided to head out to the schloss (castle) along the Saar and watch the sunrise. I think they also went to a cafe in town for breakfast before teetering off to their respective beds, around 11. As for myself, I snuggled up in bed, flushed with the success of having thrown another great party, and confident that I would not be cleaning up the mess..
Many thanks to Matthias Bauer for taking such awesome pictures. You can see more of them here.