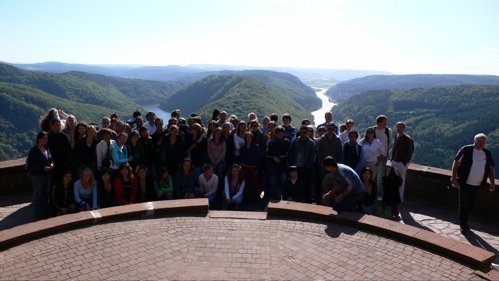 One of the aspects of life in Germany over which I often pondered was what to do when certain historical topics were introduced while in the company of German folk. What would I say? How would they react? Perhaps I worry too much sometimes. Last Friday, I introduced my new friend Danielle, from Israel, to my German roommate Michael. Their first exchange, Him: "So how do you feel about the war between Israel and Lebanon?", Her: "How do you feel about the Holocaust?". I had to smother my laughter. She also has a German boyfriend, a Saarlander. So of course, no wine-tasting in Trier would be complete without Michael declaring to the both of them, "it's so nice to see how people from Israel and Germany work out together 60 years after the Holocaust..".
We did have a marvelous time in Trier. Besides visiting the Saarschleife (the point at which the Saar river makes a large bend along the valley), we were free to have lunch where we liked as well as follow the guided tour through the city or wander off on our own. A small group of us chose the latter and I took many wonderful pictures. We ended the day in a small Vinothek along the Mosel river for a three-hour long wine tasting of 6 varieties. I believe there was a pinot noir at the beginning, which wasn't very good (too light, too young), and the rest were sweet white wines, as well as one rosé. I bought their late harvest 'Eiswein' which I thought was delicious. Many of the students preferred the cheaper wines and had them opened for the bus trip back to Saarbrücken. Ah, such is European life!
German lessons of the day: One must always cover one's mouth when yawning. Otherwise evil spirits will come in and suck out your soul, besides it being considered rude. When entering a restaurant, you seat yourself even if the table has not been cleared – the staff will eventually get around to doing that.