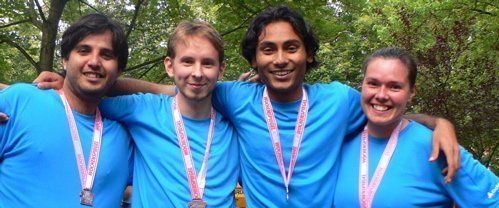 A few weeks ago, some of my friends and one of my flatmates signed up to run in a race in Dillingen. They told me it was a half marathon and asked if I wanted to join. I respectfully declined.

But then one guy dropped out. And I found out it was only a 5k run. (I had run, and won a 5k, once before in my life). And that if they didn't find a fourth person, they wouldn't be qualified as a team and would have to resort to cheating.

So at 4 o'clock, when it was clear that no one else would run with them, I showed up and agreed to do it, if they didn't mind. The shirt fit, I ran off to grab my shoes, and we were on the train by 5.

Nine thousand racers, a torrential downpour just before the gun went off, town citizens cheering from their windows. It was amazing. I could not but revel in it: the exhilaration of feeling your body perform, the evident happiness in the faces of those around you who have the same stretch to cross, the giant mud-puddles that some would holler about and avoid and others would splash right through knowing that those behind would follow..

In the end, I managed to finish the race in under 40 minutes, which I was quite happy with, considering I haven't run longer than twenty minutes in the past year, and not at all in the past few weeks. It was also stiff competition for us seeing as they entered the all-male category and I was supposed to be a young man named Mohammad Abdel. On the other hand, one of the guys on the team never got a scoring for some reason, so we don't actually have a team placement. Oh well, twas all worth it to me.

Still, for anyone who needs proof, you can find our scores under 'Computer Geeks 1' at http://results.davengo.com/index.php. Remember to look for Mohammad..

UPDATE: I just posted all the pictures here.